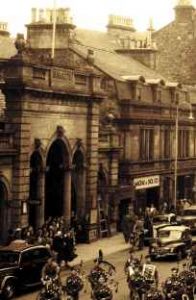 ANDREW PATERSON was 20 years old when he opened his first studio at 32 Church Street, Inverness, in 1897. This address was also occupied by the photographer Miss Mary MacGillivray…possibly the daughter of his previous employer.
One of the earliest newspaper linage advertisements for his studio, which appeared in June 1898, noted: "PHOTOGRAPHY. Special attention given to the PHOTOGRAPHING OF VOLUNTEERS. The Studio will be Open all day To-morrow (WEDNESDAY) for the convenience of Volunteers. Sittings can be made by appointment. Cabinets from 10s 6d per dozen. ANDREW PATERSON, PHOTOGRAPHIC ARTIST, 32 CHURCH STREET."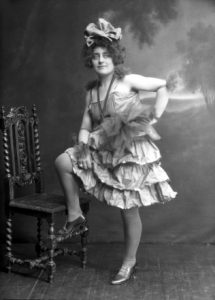 A news report datelined London 14th June 1898 noted: "BRITISH HOME DEFENCES. VOLUNTEERS TO BE REARMED. The British War Office proposes to rearm the volunteer artillery forces throughout the country." It's presumed these are the Volunteers Paterson was referring to in his advertisement campaign.
In 1900 he relocated the studio to 3 New Market Entry (off Church Street), which in 1888 had been the studio of local photographer Adam Cooper. Paterson's older sister, the 27 year old Elsie B. MacKintosh, who had been widowed the previous year, worked for                                                      him as his studio saloonist (doing hair and make-up) at this time.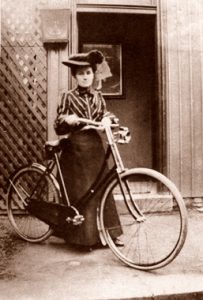 Andrew Paterson won innumerable awards both nationally and internationally for his work. His studio notepaper of the 1920s listed 22 Highest Honours for Portraiture, including The Salon, Royal Photographic Society London, Brussels, Glasgow, Dundee, Bolton, Croydon, Southampton, Southsea, Frome, Hove, Wigan, Newbury, and Nottingham. The above awards are undated, but there are five awards for which we know the year. The earliest is Paris 1902. According to his adverts, he had won 21 Honours by 1914. (In an advert for the studio in the 1948 Inverness Royal Academy summer magazine, there are fully 23 Honours listed.)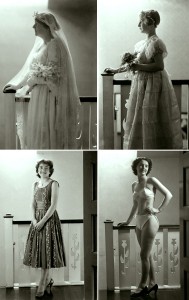 By 1901 Paterson was a frequent exhibitor at the Royal Photographic Society in London, and details of his entries can be found in the records of the annual exhibitions of the Society (1870-1915). In 1901 his entry was My Wife. His 1902 entry was of a partially-clad woman, Portrait of a Young Lady, and in the General Professional Photography section he showed Mrs P. His studio moved to 15 Academy Street in 1903, and his entry for the Society that year was titled Head of a Man.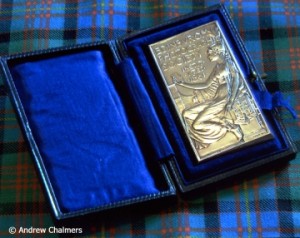 In 1905 the buildings in Academy Street were re-numbered and the studio became 19 Academy Street. His 1906 Royal Photographic Society entry was simply titled A Portrait (which had a price tag of 42/-). In 1908 he won the Scottish National Edinburgh, and in 1911 the Scottish National Glasgow. His Royal Photographic Society entry for 1912 was A Highland Roadway and in 1920 he won an Edinburgh Photographic Society award, the only Scottish photographer to gain such a distinction in the annual open exhibition that year.
In 1921 Paterson's son Hector became his apprentice, assisting him in 1923 with shooting the official photograph of a group of officers, including the Prince of Wales, at the Seaforth Memorial Ceremony at Fort George. In 1924 Hector studied at the Edinburgh College of Art, while being apprenticed to the photographer Drummond                                                                              Young.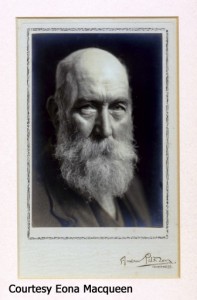 When the first Scottish PEN Conference was held in Edinburgh in 1927, it featured Paterson's gallery of famous literary personages, including George Bernard Shaw, Hilaire Belloc, and many others with worldwide reputations. A 1929 portrait study of Compton Mackenzie contributed to the Scottish National Salon was specially commended by the critics. (A gelatine silver print of the Mackenzie portrait, signed and dated by Mackenzie in 1931, was bought by the National Portrait Gallery in London from Bonhams in March 2011 for £600 including premium.) The Scottish National Gallery and Museum of Photography in Edinburgh was opened in 1931, and Paterson had three exhibits at its Foundation Exhibition. They were artistic bromide studies of William Mackay Mackenzie, D.Litt.; Rev. Professor John Macleod, D.D.; and James Maxton, M.P. Again Paterson was congratulated on the excellence of his work.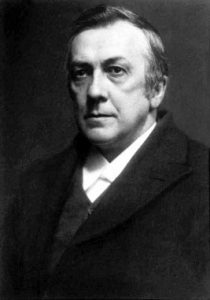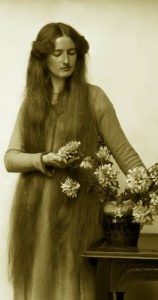 Paterson built up a remarkably fine collection of photographic studies of people distinguished in literature, politics, science, and industry. Among the many who were photographed by him were Sir John Barbirolli, Lloyd George, Ramsay MacDonald, Cunninghame Graham, Clement Attlee, Sir David Young Cameron, Herbert Morrison, Matheson Lang, Hutin Britton, Hilaire Belloc, John Gielgud, Anna Neagle, the Czech statesman Jan Masaryk, Noel Coward, Hugh Dalton, Alfred Hitchcock, Neil M. Gunn, Lord Lovat, John Murray, the artist Sir William Russell Flint, and General Smuts.
Paterson was always given a heads up by the Inverness station master if anyone notable was coming in by train to Inverness. As his studio was over the road from the station, Paterson would meet people off the train and this way he eventually took portraits of almost everyone of any importance.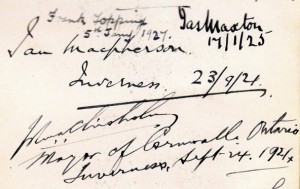 By 1935 Andrew Paterson was spending time in the studio of the Daily Record in Glasgow, collaborating with their own staff photographers and providing "that inspirational note that keeps the newspaper picture pages continually fresh and interesting." The newspaper even made arrangements for prominent citizens wanting to take advantage of Paterson's presence in Glasgow, "to secure a portrait by his always individual hand."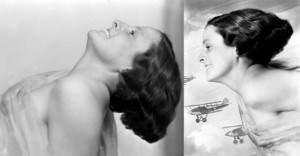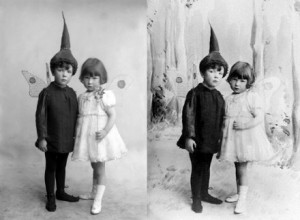 Paterson used to great effect one particular technique that was virtually new at the time. By using a soft focus lens combined with subtle lighting effects, he was able to eliminate blemishes and erase wrinkles in order to create a more flattering portrait.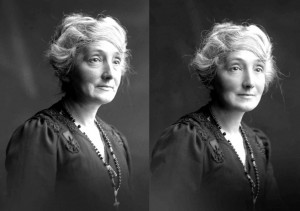 Click here to see the Compton Mackenzie portrait held by the